"Surrogacy is an arrangement or agreement whereby a woman agrees to carry a pregnancy for another person or persons, who will become the newborn child's parent(s) after birth" (from Wikipedia).
To me, it is the ultimate love a human can give to another, and this is where Stella Renée's story begins.
I met Renée at the Old Rock Coffee in Sudbury where we chatted up a storm and got to know each other a bit better. For the first time, I learned about surrogacy and that she is carrying a baby that is not hers. I was deeply touched by the story of the biological parents and I was very humbled and excited at the same time when I learned that they are hiring me to photograph the birth.
This birth was a first in more then one way. It was my very first birth in Sudbury, Ontario, my first at Health Science North, and my first in the year 2016!  Most importantly, it was my very first surrogate birth!  You can see my excitement and my anticipation.
I got a text from Renée at around 9 pm that she is in labour and will be heading to the hospital later. She said that the biological parents are going to pick her up and take her into the hospital, at which point she would let me know how far along she is. Well, I thought it would be just better to meet them at the lobby and walk in together. Around midnight, when I met the three of them, Renée didn't really look like she was in labour but everyone handles pain differently, so there is no guideline for that. When checked, she was only 4 cm dilated and given her history of long labours, they were thinking that we will have the baby early in morning. It didn't take an hour to realize that labour was picking up and we were getting closer to meet this little girl. I really felt bad for her when she went through the epidural procedure and could not utilize it at all. Four contractions after she got the epi, the baby was coming, and oh boy, was she coming fast! Luckily, our knowledgeable nurse was there to guide her out safe and sound, and Renée was a real trooper throughout! There was not a dry eye in the room; the happiness and gratitude of the biological mom was amazing!
They have waited for this little girl for so long, especially after losing another precious baby 5 years ago.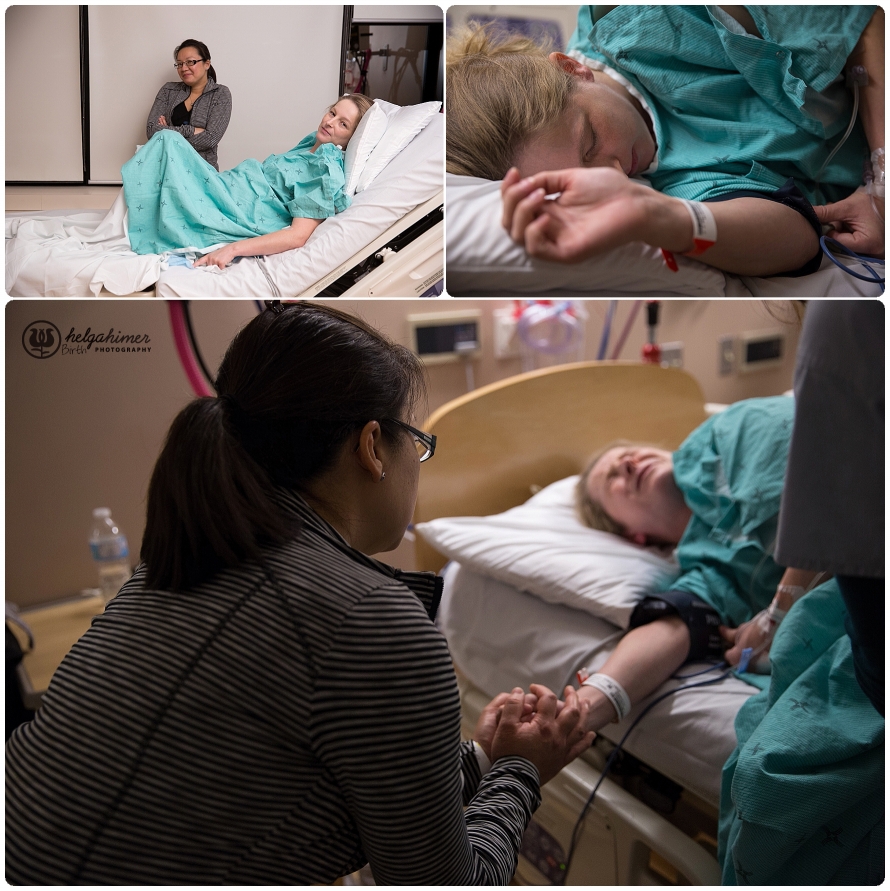 Shortly after the birth, proud big brother arrived with Daddy and Grandma. He was such a sweetheart; the excitement in his eyes at 3 in the morning was quite something. As soon as he saw his l'il sister, he went to hug and thank Renée. Isn't he just precious?

I think one of the highlight of this birth was this very moment: Big brother was given the stethoscope to listen to Stella's heart beat. First his eyes just lit up and you can see he was amazed. But then he couldn't contain himself and started crying – but crying for joy! He heard his long awaited sister's heart and that made him so full of joy that he couldn't keep it in. We were all crying once again!


If you want to see the full story, take a look at their birth slideshow:
I'm so honored to witness such a miracle and humbled that this lovely family chose me to be there to document their journey. Thank you so much from the bottom of my heart.
xoxo,
Helga
---
Book your birth photos with Helga Himer Photography. Now booking for April to July births in Sudbury, Ontario. Please call 705-920-8089 or email Helga at [email protected]